SCHWARZKOPF – Gliss Kur Thermo-Protect Blow-Dry Oil
---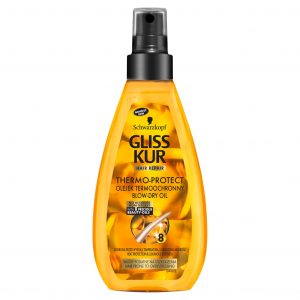 Protective hair oil in Gliss Kur Hair Repair Line is dedicated for hair that particularly dislike additional weight. Gliss Kur Thermo-Protect Blow-Dry Oil is a first thermo-active oil in spray, in which composition are eight precious oils. These are the one to provide intense and effective action of the cosmetic.
How does Gliss Kur Thermo-Protect hair oil work?
Protects hair against high temperature.
Ensures silky smoother and softness.
Nourishes, strengthens and repairs.
Inhibits ageing processes and eliminates damages.
Smooths and provides shine boost.
Schwarzkopf Thermo-Protect – composition analysis
Thermo-Protect Oil from Gliss Kur is a combination of eight natural oils. However, prelude them some other substances in greater concentration. Firstly, emollients (Isododecane, Caprylic/Capric Triglyceride), which are added to hair styling cosmetics as a softening substance. Right behind them is vegetable stabiliser (Dicaprylyl Carbonate). Only after these substances are placed oils, which are coped with additional UV filter (Octocrylene).
Gliss Kur Thermo-Protect Blow-Dry Oil contains sunflower oil (Helianthus Annus Seed Oil) preventing dryness and taking care of hydration. Then there is argan oil (Argania Spinosa Kernel Oil) valued for regenerating action. Quite curious ingredient is safflower oil (Carthamus Tinctorius Seed Oil), which holds six EFA, so it inhibits ageing processes of cells. Another ingredients are: vanishing macadamia oil (Macadamia Ternifolia Seed Oil), strengthening olive oil (Olea Europaea Fruit Oil), elasticity providing apricot kernel oil (Prunus Amygdalus Dulcis Oil), full of vitamins sesame oil (Sesamum Indicum Seed Oil) and protective wild rose oil (Rosa Canina Fruit Oil).
Schwarzkopf Thermo-Protect Hair Oil consists of five potential irritating fragrances (Butylphenyl Methylpropional, Linalool, Alpha-Isomethyl Ionone, Coumarin, Citronellol), which ensure it with sweet, honey and very nauseating smell. Yellow colour of the oil is also artificial, because privided by the colourant (CI 40800).
More about the cosmetic…
Thermo-Protect Hair Oil Schwarzkopf Gliss Kur Blow-Dry Oil has 150 ml/5.1 oz volume. This is standard volume for hair styling oils, which are often used in greater amount. Yellow oil is runny and absorbs almost immediately in hair. Flat, plastic bottle is equipped in atomiser.
Spray form significantly improves use of this product, which is applied faster and in right amount, so it does not weight hair down.
The manufacturer recommends to spray Gliss Kur Thermo-Protect Blow-Dry Oil on washed and towel dry hair. Damp strands are then protected against hot air from the blow dryer, etc.
ADVANTAGES in hair styling:
the complex of eight natural oils
lightweight formula
effective protection against high temperature
convenient bottle and atomiser
additional UV filter and emollients
DISADVANTAGES in hair styling:
less oils than other substances
only for use prior to blow drying
potential sensitising fragrances