DAVINES – OI OIL with Roucou Oil, Absolute Beautifying Potion
---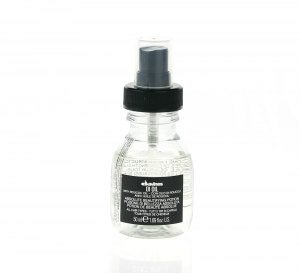 Davines OI OIL is a complete cosmetic enriched with Roucou oil. It is suitable for all hair types. This oil can be used as a hair care oil, but works better as a hair styling cosmetic. Absolute Beautifying Potion is a universal answer from Davines for all hair needs. Exclusively for hair salons.
How does Davines hair oil work?
It creates protective layer on hair.
Protects hair structure against damages.
Makes combing easier and disciplines hair.
Smoothes, provides softness and gloss.
Visibly shortens drying time.
Davines OI OIL – composition analysis
Absolute Beautifying Potion composition starts with volatile silicon (Cyclopentasiloxane), that quickly evaporates without doing any harm to hair. A bit further is one more volatile silicon (Cyclohexasiloxane), that is preceded by two mild silicon oils, which can be removed with gentle shampoo (Disiloxane, Dimethiconol). Right before fragrances is additional UV filter (Ethylhexyl Methoxycinnamate). All the ingredients are probably undesirable when it comes to hair care products, however, in case of hair styling these are essential.
Silicones and filters protect hair against damages and condition them.
Right behind fragrances gets a bit more interesting when it comes to natural ingredients. Their position in the composition means that in Davines OI OIL, these particular substances are in trace amounts. The cosmetic contains antioxidant in form of vitamin E (Tocopherol). Next is sunflower seed oil (Helianthus Annuus Seed Oil), which nourishes and provides essential vitamins and minerals. Davines enriched its product also with annatto oil (Bixa Orellana Oil), i.e. another one antioxidant, and buriti oil (Mauritia Flexuosa Fruit Oil) obtained from Amazon palm that moisturises and inhibits ageing processes.
The composition ends with five fragrances (Citronellol, Geraniol, Linalool, Alpha-Isomethyl Ionone, Limonene), which are responsible for very heavy and irritating scent. Aroma is difficult to determine, but it resembles a bit scent of cheap perfumes. However, more important is that it lasts on hair for some time after styling.
More about the cosmetic…
Davines OI OIL Absolute Beautifying Potion is a small hair oil. It has 50 ml/1.7 oz volume, what can be an indication of short adventure with this oil. Luckily, the product was equipped in plastic, see-through bottle with a black pump. Therefore, it is easier to administer on hair right amount of colourless OI OIL. The product is not thick, so dosage of minimal amount of the cosmetic improves efficiency of Absolute Beautifying Potion.
Method of use is very simple. As it should be for hair styling oil, just 2-3 drops of Davines OI OIL are enough. It is distributed on the entire hair length and hair ends (also dry).
ADVANTAGES in hair styling:
mix of light silicon oils
three natural oils in the composition
additional UV filter with protective action
convenient pump for easier application
leave-in hair oil
DISADVANTAGES in hair styling:
heavy and irritating aroma
small volume
advantage of other ingredients over oils