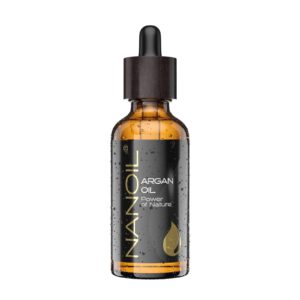 Nanoil Argan Oil is quite an untypical product in this ranking. The fact that it doesn't contain any silicones and is made of just one ingredient – pure argan oil – happens to work for the product's advantage. The supporters of natural hair styling products will surely fall in love with its smoothing and shine-boosting properties.
How does Nanoil Argan Oil work?
Shields hair against hot air.
Regenerates and protects against damage.
Leaves hair shiny and smooth.
Provides UV protection.
Makes hair soft and manageable.
Doesn't overburden strands.
Nanoil Argan Oil – composition analysis
As mentioned above, Nanoil Argan Oil isn't made up of many substances which should be recognized as the product's huge plus. A fancy bottle made of dark glass houses organic and pure argan oil that was certified by Ecocert. This proves that the product you're holding in hands offers you the highest quality. Moreover, Nanoil Argan Oil is unrefined and cold-pressed which prevents the oil from losing its precious microelements, vitamins, minerals and good fatty acids that nuts of Argania Spinosa are known for.
What's so captivating in Argan Oil by Nanoil? Mostly the perfect balance of EFAs, natural UV filter, high concentration of the finest antioxidant – which is vitamin E – plant sterols and flavonoids that slow down ageing processes. Furthermore, Argan Oil is easy to be spread on hair length and its constituents suit almost all hair types. This oil is fast-absorbing, provides instant shine and conditions hair to leave it smooth and soft. Another positive side of Nanoil Argan Oil is the lack of synthetic substances, blends or alcohols.
As it's plain to notice, this is the highest quality product that aids in taming even the most unruly hair.
More about the cosmetic…
Nanoil Argan Oil isn't only a hair styling product. The truth is, it can be applied to the entire body including face and fingernails too. Basically, this 100% pure oil is perfectly suitable to be used for massaging. Also, it can be added to regular body balms, face/hair masks, conditioners as well as face and eye creams. This oil can be also applied solo to deliver effects similar to a night face serum (you can follow with a regular night face cream). What's more, Argan Oil by Nanoil is able to regenerate even severely damaged and dry fingernails as well as eliminate roughness of feet, elbows and knees. Finally, original Argan Oil can be used as a constituent of D.I.Y. beauty products.
ADVANTAGES in hair styling:
perfect formula, easy to apply
is non-overburdening
smooths and leaves hair shiny in no time
protects hair against the sun and high temperature
DISADVANTAGES in hair styling:
in the case of low porous hair, the oil can be used to condition hair ends only