BAMBOO Smooth – Kendi Oil Dry Oil Mist, Ultimate Frizz Control
---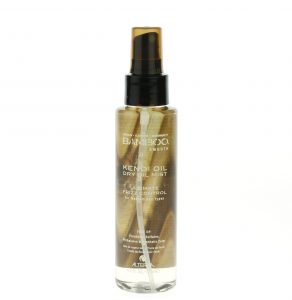 Kendi Oil Dry Oil Mist is a hair oil for even the finest hair. This light-weight spray is dedicated to eliminate flyaways and protect hair against high temperatures during hair styling. Professional Bamboo Smoth mist is based on organic Kendi oil and bamboo extract. This product is free of harmful substances.
How does Kendi Dry Oil Mist work?
Prevents fizzing of hair.
Protects against high temperatures.
Makes combing and hair styling easier.
Preserves the hair style and provides silky finish.
Smooths and provides gloss.
Bamboo Kendi Oil – composition analysis
Bamboo Kendi Oil formula is based on softening ingredient (Isododecane). This emollient makes application of the product much easier, moisturises and ensures shine. Right behind it are two light silicones – one volatile (Cyclopentasiloxane), and the other one easily rinsed with delicate shampoo (Dimethicone). Unfortunately, third silicon is heavy (Phenyl Trimethicone), and you will have to remove it with strong detergent. Right before natural oils in the composition of this cosmetic are phospholipids, i.e. particles of which are made cell membranes.
Only after these ingredients are natural oils. First is sunflower seed oil (Helianthus Annuus Seed Oil), rich in vitamins, minerals and essential fatty acids. A bit later is kukui oil (Aleurites Moluccana Seed Oil) with great absorption and buriti oil (Mauritia Flexuosa Fruit Oil), which moisturises and stimulates cellular renewal. Quite interesting ingredient is passion flower oil (Passiflora Edulis Seed Oil), with regenerating properties. Additional oils are olive oil (Olea Europaea Fruit Oil), grape seed oil (Vitis Vinifera Seed Oil) and avocado oil (Persea Gratissima Oil).
Bamboo Kendi Dry Oil Mist composition is rich in many additional ingredients. The most important is bamboo extract (Bambusa Vulgaris Extract), which makes weak and brittle hair more elastic, but also absorbs harmful UV radiation. Beside it, the product has additional UV filter (Polyslicone-15), enzyme (Superoxide Dismutase), yeast extracts of zinc, magnesium, iron, copper and silicon (Saccharomyces Ferment), glycerine (Glycerin), pure water, but also antioxidant in form of vitamin E (Tocopherol).
For fresh scent of bamboo shoots, which is characteristic to Bamboo Kendi Oil Ultimate Frizz Control is responsible combination of four fragrances (Citronellol, Limonene, Linalool, Butylphenyl Methylpropional). Sadly, its beautiful scent evaporates pretty quickly.
More about the cosmetic…
The volume of Bamboo Smooth Kendi Oil is 125 ml/4.2 oz, which is a bit more than in similar cosmetics. Colourless and runny mist is applied with convenient atomiser. This makes use of cosmetic easier, but also significantly increases its efficiency.
Plastic bottle looks elegant, especially when you look at the bamboo shoots on the inner side of the label. The bottle itself is very convenient.
Kendi Oil Ultimate Frizz Control application is simple. Just spread small amount of oil on damp hair at some distance and style hair the way you want to.
ADVANTAGES in hair styling:
elasticity providing bamboo extract
vitamins, UV filters and antioxidants
seven natural hair oils
convenient atomiser for easier application
lightweight and drying formula
fresh scent of bamboo shoots
DISADVANTAGES in hair styling:
hard to rinse silicon
substances that can weight hair down
artificial fragrances