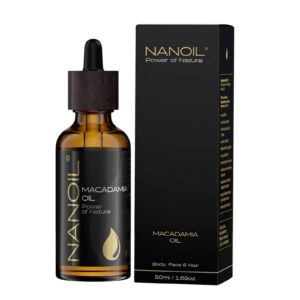 Indeed, Macadamia Oil by Nanoil is a most women's favorite – it's completely natural and ultra-light, doesn't weigh hair down and penetrates so fast that it's was nicknamed 'vanishing oil.' Macadamia tames hair leaving it light and voluminous. Is this where the oil's incredibile action ends?
How does Nanoil Macadamia Oil work?
Penetrates hair without overburdening.
Leaves hair voluminous and shiny.
Tames and takes care of hair.
Protects hair against UV rays, toxins and smog.
Offers heat protection.
Nourishes and regenerates hair.
Counteracts frizz.
Nanoil Argan Oil – composition analysis
The best thing about Macadamia Oil by Nanoil is its quality proven by a world-recognized certificate. A stunning bottle made of pharmaceutical glass houses oil which was awarded Ecocert label.
In general, the properties of macadamia oil are found useful mostly in the case of colour-treated hair. This natural substance is frequently added to hair dyes so as to prevent hair damage during the coloring process. What macadamia oil does is preventing the inner hair structures from losing water which translates into well-hydrated hair. The very quality is favorable also during hair drying.
Additionally, Macadamia Oil by Nanoil is an unrefined and cold-pressed substance; it wasn't deprived of its precious minerals and vitamins. The blend of fatty acids such as palmitoleic acid (rare omega-7 acid) and linoleic acid (omega-6) make it a product perfectly suitable for medium and high porosity type care. Apart from that, the oil has rejuvenating vitamin E, crucial for skin, hair and nail hair vitamin A as well as B-group vitamins (B1, B2, B3).
Such a composition is everything that hair require to be healthy, strong and beautiful. Also, hair manageability becomes noticeably improved.
More about the cosmetic…
Macadamia Oil by Nanoil isn't just a hair styling product. It can be applied to the entire body, face and fingernails too. This 100% pure oil, free from synthetic substances and parabens essence of macadamia nuts is perfectly suitable to be used for full body massage. Also, it can be added to a body balm, face masks, conditioners and face/eye creams. Finally, it can be used in the form of a night face serum prior to applying a night face cream.
ADVANTAGES in hair styling:
light oil of good formula
penetrates hair fast without weighing it down
has lovely aroma of macadamia nuts
protects against the heat generated by a hair dryer and flat iron
tames and leaves hair glossy
DISADVANTAGES in hair styling:
small size
in the case of severely damaged hair, it's better to combine it with other oil, e.g. avocado or argan oil