SCHWARZKOPF – Essence Ultime Crystal Shine Finishing Oil
---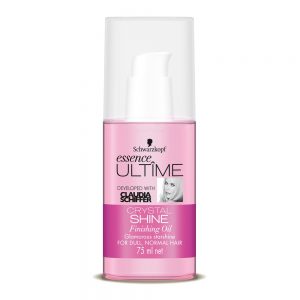 Crystal Shine Finishing Oil is hair oil form Schwarzkopf, that was developed in co-operation with Claudia Schiffer. This small cosmetic was created for normal and matte hair. Essence Ultime is silicon and oil serum, which more than on hair care is focused on providing diamond gloss finish for the hair style.
How does Essence Ultime Crystal Shine hair oil work?
Ensures stunning gloss.
Allows discipline for hair.
Protects against high temperature.
Crystal Shine Finishing Oil – composition analysis
It may seem that small pink oil from Schwarzkopf will not delight us with its composition. However, it is not that bad if we take a closer look. First are two light silicones (Cyclomethicone, Dimethiconol) – one volatile and easily evaporates from hair, and the other easy to rinse with delicate shampoo. These are not harmful to hair. In right amount can provide hair with the protection on the surface and does not clog pores.
Unfortunately, in the composition of Crystal Shine Finishing Oil in only one natural oil – apricot kernel oil (Prunus Armeniaca Kernel Oil). It is an invaluable source of vitamin B17, which is responsible for hair regeneration and cellular renewal. Right behind the oil was placed additional UV filter (Octocrylene), that protects hair against harmful radiation. This is where the list of active substances ends in this product. The composition is brief, but full-bodied.
For the strong, sweet and nauseating smell of the hair oil in Essence Ultime Line are responsible seven artificial fragrances (Hexyl Cinnamal, Linalool, Limonene, Benzyl Salicylate, Alpha-Isomethyl Ionone, Geraniol, Citronellol). Many people may actually like it. Sadly, it does not last long on hair.
More about the cosmetic…
Pink hair oil for hair styling, Crystal Shine Finishing Oil, is in fact a bit straw-coloured. The colour you see at first is the effect of use bottle made of pink plastic. The bottle has 75 ml/2.5 oz volume with medium thickness. The product's formula absorbs well, but is not as light as other similar products.
The oil has greasy texture, so in greater amounts can weight hair down.
The manufacturer recommends using Schwarzkopf Essence Ultime Crystal Shine Finishing Oil one of three ways. In small amount before hair wash, after hair wash or to finish the hair styling.
ADVANTAGES in hair styling:
precious oil in the composition
combination of light silicones
additional UV filter
for use before or after hair wash
light, oil-like formula
DISADVANTAGES in hair styling:
intense, sweet, suffocating smell
only one oil in the composition
small volume
unnecessary artificial aromas