MACADAMIA Professional – Endless Summer Sun Shield Dry Oil Veil
---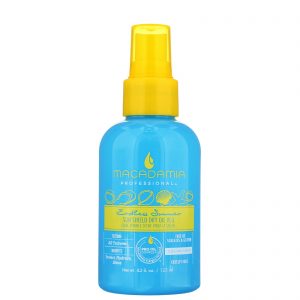 Endless Summer is a protective mist for hair created on the base of exclusive complex pro oil by Macadamia brand. The task of this hair oil is to serve as a protective shield, especially in the summer. It will protect hair, when they are the most subjected to many harmful factors, like UV radiation, dry air or salty water.
How does Macadamia Endless Summer hair oil work?
Protects against UV radiation.
Nourishes and moisturises hair on the inside and out.
Minimises risk of damage.
Provides hair with shine and smoother.
Prevents hair from gaining matte colour.
Sun Shield Dry Oil Veil – composition analysis
About the composition of Macadamia Sun Shield Dry Oil Veil there can be said not much good. The main ingredient is pure ethanol, i.e. one of the most harmful substances for hair, that belongs to group of alcohols with short chain. If there was less of this alcohol in the hair oil, there wouldn't be any problem. However, alcohol base makes this cosmetic potentially drying, allergy triggering and irritating. Luckily, light silicon (Cyclopentasiloxane) further in the composition is volatile and entirely harmless.
Macadamia Endless Summer Hair Oil consists of five natural oils. First is sunflower oil (Helianthus Annuus Seed Oil), that helps retain water inside hair. Right behind it is baobab oil (Adansonia Digitata Seed Oil), with irreplaceable protective action. Third is avocado oil (Persea Gratissima Oil) with moisturising properties, next is macadamia seed oil (Macadamia Integrifolia Seed Oil) and argan oil (Argania Spinosa Kernel Seed Oil) with great repairing and nourishing properties.
Unfortunately, the oil's composition does not end here. Right behind the oils is yet another harmful alcohol (T-Butyl Alcohol), accompanied by the good alcohol (Propanediol) with moisturising properties. The brand enriched their product with UV filter (Ethylxehyl Methoxycinnamate). There are also preservatives (Quaternium-95, BHT), obviously.
Overly alcohol and not very pleasing smell of Macadamia Professional Endless Summer Sun Shield Dry Oil Veil is an effect of mixing six artificial fragrances (Butylene Glycol, Linalool, Hexyl Cinnamal, Butylphenyl Methylpropional, Limonene, Citronellol).
The aroma resembles scent of candies combined with alcohol, but good thing is that it evaporates pretty quickly.
More about the cosmetic…
Hair oil in form of mist from Macadamia is 125 ml/4.2 oz of colourless, runny and fast drying cosmetic. This product is available in blue-yellow, plastic bottle with atomiser. Spray form is intended to make application of runny formula easier, but also to increase efficiency. No greater amount of product is needed to provide hair with full protection. In large amounts this oil can do harm, which is spawned by the composition.
Use of hair oil Macadamia Endless Summer is simple. Just spray dry or damp hair with small amount of mist before exposure to sun or hair styling.
ADVANTAGES in hair styling:
five natural vegetable oils
light silicon and additional UV filter
runny formula with great absorption
convenient bottle and atomiser
for dry and damp hair
DISADVANTAGES in hair styling:
a lot of harmful alcohols
pure ethanol as a base
redundant preservatives and fragrances
irritating, strong alcohol scent
can trigger allergy, irritate or cause dryness