DOVE – Nourishing Oil Care Detangler Spray with Nutri-Oils
---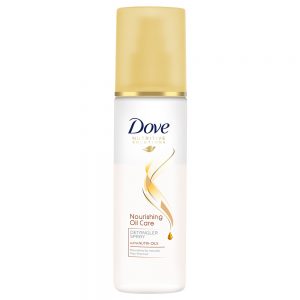 Bi-phase hair conditioner in spray, Dove Nourishing Oil Care, is first cosmetic of this type with oily formula, that has double action. The cosmetic combines Fiber Actives Technology that penetrates deep hair structures and Micro Moisture Serum with superficial conditioning action. This hair oil was created for gentle hair care.
How does Dove Nourishing Oil Care work?
Nourishes and repairs hair structure.
Smooths and provides softness.
Makes combing easier even for thick hair.
Protects hair against harmful factors.
Nourishing Oil Care Detangler Spray – composition analysis
Dove Detangler Spray is based on water (Aqua). It is better than alcohol, but much better would be some emollient or humectant. Right behind the water are few harmless silicones (Cyclopentasiloxane, Phenyl Trimethicone, Dimethicone) – one volatile and two easy to remove with delicate shampoo. After silicones its place found glycerine, i.e. one of good alcohols with moisturising properties.
Nourishing Oil Care contains also few valuable oils. As first is sweet almond oil (Prunus Amygdalus Dulcis Oil), which improves processes in hair. The second one is argan oil (Argania Spinosa Kernel Oil), valued all over the World for effective regeneration and repair. The third is coconut oil (Cocos Nucifera Oil), that can be problematic on high porosity hair due to its saturation.
Oils are followed by another set of artificial supplements, e.g. disaccharide for scent preservation (Trehalose), humectant (Gluconolactone) with antioxidant properties, acid for pH stabilisation (Adipic Acid), detergent (Sodium Sulfate), another silicon (PEG/PPG-18/18 Dimethicone) dissolving in water and one heavy silicon (Polyquaternium-16) with tendency to overbuild. There are also plenty preservatives (Sodium Chloride, Disodium EDTA, DMDM Hydantoin, Iodopropynyl Butylcarbamate), which are preluded by UV filter (Benzophenone-4) and good alcohol (Butylene Glycol).
At the end of the composition were enlisted six fragrances (Alpha-Isomethyl Ionone, Butylphenyl Methylpropional, Hexyl Cinnamal, Hydroxycitronellal, Limonene, Linalool) out of the list of potentially sensitising substances. These are responsible for pleasing, soap-like scent bringing to mind the high quality cosmetics.
Creamy aroma of Dove Nourishing Oil Care stays on hair.
More about the cosmetic…
Dove Nourishing Oil Care is in fact hair conditioner in spray, because the content of oils is much smaller than other substances. In the plastic tube with 200 ml/6.8 oz volume is placed the bi-phase cosmetic. After shaking, white and creamy upper layer combines with the see-through liquid underneath it. The entire thing is runny and absorbs well in hair. Large volume and convenient form of spray have beneficial impact on the efficiency of hair oil.
Nourishing Oil Care Detangler Spray needs to be shaken before use, for both layers to mix. This way created mist can be sprayed on dry or damp hair, also without washing hair.
ADVANTAGES in hair styling:
bi-phase formula of the mist
three natural vegetable oils
moisturising glycerine and UV filter
very pleasing, soap-like smell
large volume and convenient atomiser
for dry and damp hair
DISADVANTAGES in hair styling:
the advantage of artificial ingredients over oils
too much silicones, also heavy
preservatives and fragrances