KERASTASE – Elixir Ultime Oleo-Complexe Rose Millenaire
---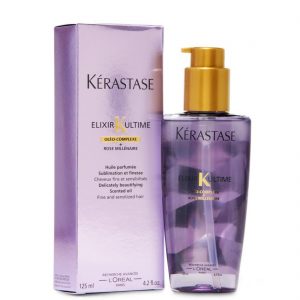 Elixir Ultime is a hair oil line created by the specialists and loved by the stylists all over the World. Oleo-Complexe + Rose Millenaire is oil for fine and sensitive hair. Its main action is protection, so it should be just right for hair styling.
How does Elixir Ultime Rose Millenaire hair oil work?
Protects hair against harmful factors.
Nourishes, strengthens and provides vitality.
Smoothers, softens and ensures shine.
Protects against UV radiation.
Provides hair cellular renewal.
Delicately Beautifying Scented Oil – composition analysis
Kerastase Elixir Ultime Delicately Beautifying Scented Oil consists of few precious vegetable oils. However, before we reach them in the composition, we have to go through some other substances. First of them is volatile silicon (Cyclopentasiloxane), a bit further are another out of light silicones (Phenyl Trimethicone, Dimethicone), which are also not harmful to hair. Unfortunately, the second place was taken by the harmful one hydrogen oxide alcohol (Alcohol Denat), which can be a cause for dryness and roughness.
Further part of Elixir Ultime Oleo-Complexe Rose Millenaire is the oil complex. As first there is maize oil (Zea Mays Oil), rich in EFA. Next is well-known argan oil (Argania Spinosa Oil) with strong regenerating properties. Then there is camellia oil (Camellia Oleifera Seed Oil) and pracaxi seed oil (Pentaclethra Macroloba Seed Oil) – both with intense moisturising and nourishing properties. Oils collection in the product ends with wild rose extract (Rosa Canina Flower Extract), which was mentioned on the label and fulfils the function of natural UV filter.
Natural oils in the composition are twined with emollients (Caprylic/Capric Triglyceride), that unfortunately have clogging action. Somewhere at the end of the composition is placed another bad alcohol (Benzyl Alcohol), that causes dryness. In Elixir Ultime Rose Millenaire it fulfils role of fragrance.
This is why the cosmetic has intense, irritating smell of alcohol. Luckily, it evaporates pretty quickly.
More about the product…
Violet box in metallic shade holds solid, plastic bottle with 125 ml/4.2 oz volume. Such amount of Kerastase Elixir Ultime Delicately Beautifying Scented Oil will last for quite long time. Especially that the hair oil has liquid consistency, so you do not need to take much of it. The efficiency is increased by the pump, which however is not entirely practical when it comes to runny cosmetic like this one. Here better would be atomiser.
Method of use is standard for Kerastase Oleo-Complexe Rose Millenaire. Oil can be applied on dry and damp hair, before or after hair wash. It is best to administer it at the length from the ear down.
ADVANTAGES in hair styling:
light silicones with conditioning properties
four oils and vegetable extract
lightweight formula with great absorption
for fine and sensitive hair
DISADVANTAGES in hair styling:
large amount of harmful alcohols
inconvenient dispenser
irritating smell of alcohol
can trigger allergies on scalp