Steaming hair. What is it? What effects does it bring?
---
We usually go to a steam room to cleanse the skin, improve circulation and immune system. Some women also use steaming hair. What are the benefits of the treatment? How is it different from the standard steam room?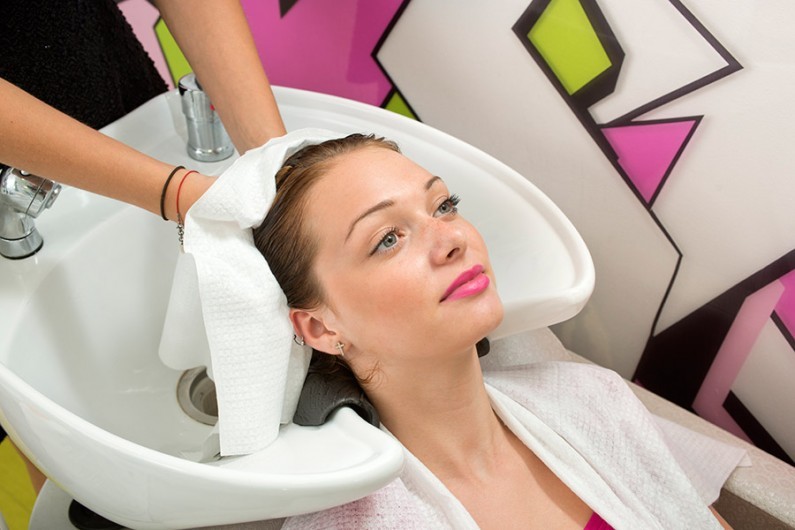 Steaming hair is mainly recommended for damaged strands. It improves the condition of hair that is weak with colouring, dry climate, heat styling, chlorinated water or summer without sunscreen. It makes the absorption of nutrients faster and easier, which is crucial for hair needing intensive repair.
Steaming hair is the best way to provide intensified action.
Steaming hair. What is it?
Steaming hair doesn't require a separate room and you don't take your clothes off. Hair steamer is bigger than a hairdresser's dryer.
After shampooing, the hairdresser applies suitable products, ties your hair up and puts your head under a plastic or glass hair steamer. Steaming hair lasts more or less 20 minutes. The water inside the device is heated up to 40 C and steams through the holes right onto your hair. The treatment is pleasurable. You can smell the fragrance of the applied cosmetic.
After the treatment, your hair is rinsed with warm and cool water alternately, which allows for closing cuticles and protecting hair.
DIY steaming hair – how do to it?
Theoretically, steaming hair in a hair salon is the most effective. It provides a suitable steamer which sets ideal temperature and precise timing. You don't need to prepare anything. However, you can do the treatment at home. How?
Most of all, you need a cosmetic that will be applied after washing. A food wrap, a towel and a hair dryer are also necessary.
Wash your hair twice. Apply a chosen conditioning product to damp hair, on the entire length of hair. Then, put it in a bun and cover with the food wrap which allows you to create the steam. Wrap your head with a towel (you can heat it up with a dryer or on the radiator). Wait for more or less 30 minutes. In the meantime, you can use a dryer to maintain high temperature under the turban.
Take off the towel and food wrap, rinse the hair thoroughly. You can use warm and cool water alternately (like in a salon). Remember to use cooler water for the final rinse – you close hair cuticles, and lock water and valuable ingredients inside your hair.